Get Involved » Mentorship Program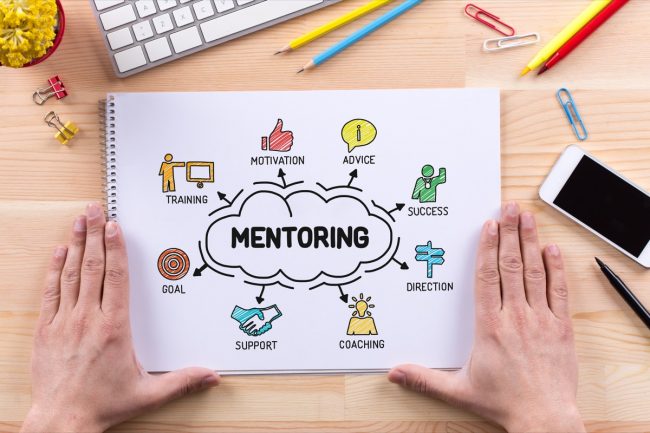 We're excited to launch a new mentorship program open to all members of IABC Central Oklahoma! Our inaugural program will run from May through mid-November 2019. Space is limited in our inaugural program, so apply today!
Our goal is to pair high-level communicator mentors and entry- or mid-level communicator mentees to provide industry-specific guidance, networking and learning opportunities.
Benefits for the mentee can include:
Assistance with resumes, networking opportunities and interview/job hunting skills for student mentees
Growth in specific skill sets (writing, business development, leadership, etc.) through encouragement and guidance from an experienced communicator
Short-term guidance and feedback for a communication-based project or award entry
Long-term support, advice and accountability for career planning and advancement
Benefits for the mentor can include:
Opportunity to hone leadership skills while helping a young professional grow in their career
Keeping skills sharp by discussing communications strategy and tactics
Helping advance the profession of communications
Program Expectations
All participants in the IABC Central Oklahoma mentorship program, both mentors and mentees, must be current members of the International Association of Business Communicators.
Not a member but interested in participating? Join the Central Oklahoma chapter of IABC today here: https://www.iabc.com/join/. Annual dues for professional members are $289. Student members may join for $49 for international dues plus $25 for local chapter dues.
Mentorship is a mutually beneficial partnership through which both parties have the opportunity to learn and grow. Regular meetings between mentor and mentee can be used to work on developing specific skills and overall professional growth, all guided by the mentee's and mentor's goals for participating in the program.
Our program offers some flexibility in execution, but we ask that both mentees and mentors commit to full participation for six months. That includes:
Meeting at least monthly for duration of mentorship. In-person meetings are preferred, but phone calls or video meetings may also be used as needed.
Commitment to attend at least one mentorship program event (kickoff event, check-in events, or wrap-up event), which are listed below.
Maintaining open communication between mentee/mentor with timely responses to questions asked via email or phone between monthly meetings. In general, we encourage responses within two or three business days.
Timeline of Group Events
Mentors and mentees are expected to attend a minimum of one group event, but more regular attendance at group events is encouraged.
Application Deadline - March 29
Complete online application by midnight.
Mentor/Mentee Pairing Notification - April 18 via email
Mentorship Kick Off - May 2, 1:00 - 1:30 p.m., Boldt Construction
Program introduction and goal-setting. This event will immediately follow IABC's May professional development luncheon, which mentors and mentees are also encouraged to attend.
Coffee and Conversation - June 27, 8 a.m., Location TBD
Mentorship check-in and participant feedback.
Milestone Meeting - August 29, 6 p.m., Location TBD
Group discussion and goal re-evaluation.
Program Wrap Up - November 14, 6 p.m., Location TBD
Finale celebration and mentorship assessment.
IABC's Career Roadmap
IABC defines four career levels in its career roadmap, which will be integrated into our mentorship program. They are:
Foundation: This is the entry level of the profession. At this milestone the professional is expected to contribute under relatively close supervision and direction from a more senior person, and is expected to exercise initiative and creativity within a well-defined area. They must master basic and routine communication tasks, and demonstrate competence on a portion of a larger communication project or task.
Generalist/Specialist: At this level the communication professional branches into a role with either a specific or a generalist focus, where work experience provides opportunities for a more strategic and problem-solving approach. The communication professional will apply a deeper understanding and practice of the Principles of Communication.
Strategic Adviser: Maturing as a communication professional though consistent application of the Principles of Communication, at this milestone they are expanding expertise and innovation. The communication professional assumes increased responsibilities, including resource management. They are interdependent, taking responsibility for work other than their own and developing others within the organization.
Business Leader: The communication professional at this milestone demonstrates the ability to serve at a senior peer level, leads within an organization by providing counsel, and helps to set organizational direction at a strategic level. They set a standard for application of the Principles of Communication. As business leader, they play a key role in shaping the future of the organization by sponsoring promising people, programs and ideas.
Please read the descriptions above and note where you currently fall on the career roadmap, as you'll be asked on the application.
Ready to get matched with mentor or mentee? Submit your application today.